Collectable tramping huts


Made with the spirit and integrity of the backcountry; from salvaged materials to handcrafted construction.




A new limited edition product inspired by the Aotearoa backcountry




Nov 2023

Less than 30% still available
On The Right Track
A duo of limited edition artworks to remind you that no matter what intention you've set, you are on the right track.

On The Right Track
is a creative collaboration between three artists inspired by te taiao Aotearoa who actively lead the way in material salvaging and reuse.
Inspired by the humble orange triangle seen throughout the backcountry
Kemi & Niko
have commissioned two artists to create their take on the symbol.
Metal Metcalfe
(Hawkes Bay) have created a solid metal triangle from discarded orange 44 gallon drums to carry with you and display in any space.
Printmaker
Shapes by Sal
(Wanaka) has illustrated and carved an exclusive print of a lush bush scene perfect for your wall at home or work.
In support of the great mahi that
The Kindness Institute
do helping rangitahi gain valuable mental health tools in their Atawhai program, 7% of our profits will be donated to their fundraising campaign.
Limited edition of 250 and only available until Dec 2023
Free Shipping in Aotearoa. Orders will ship weekly on Wednesdays from the 15th November.
All online orders are plastic free.



Note on Shopping Cart: To add more items to your order, close the cart tab. All your items will be saved.



First Edition Offer

The first 22 editions include an original print that Shapes by Sal has handprinted for the project launch. These are beautifully tactile and add another dimension to the gift set.
Includes full gift set with metal artwork.
Original print is approx. 28cm x 19cm printed on fawn coloured Stonehenge paper.
All the inks are hand-mixed and artworks are hand-printed, this means that some prints may have slight colour variations and small differences depending on how much ink or pressure was applied.
On The Right Track

Each gift set includes:
1 x Orange Triangle Artwork
2 x Magnets
for hanging metal triangle
1 x Art Print
Plus a 7% Donation
in support of the great mahi that
The Kindness Institute
do helping rangitahi gain valuable mental health tools.
Artworks are made from salvaged materials and 100% recycled paper so variations will occur.
Display option in celophane wrap is available on request in the notes section of the checkout. Otherwise all online orders will be wrapped in tissue paper.

Gift special (2 sets)

Two sets, one for you and one for a loved one with a 12% discount and a free
Mini Hut greeting card
Add top up donation?

Help us give more by adding a top up donation to your order.
100% of this amount will go to
The Kindess Institute
for their great mahi helping rangatahi access mental health tools in thier Atawahi program.
Top up begins at $5,
if you are able to give more you can change the quantity in your cart.
Please note: As we are collecting on behalf this donation will not qualify for the tax credit. If this is a concern
please donate directly.
Want more info?


︎









Free Shipping Nationwide


Aotearoa NZ

Shipping to US, UK & AUS between $15 - $25


︎



Missed out?


and be notified about the next batch




or you can try our




April 2023

Goat Creek Hut ︎︎︎
Cecil Kings Hut ︎︎︎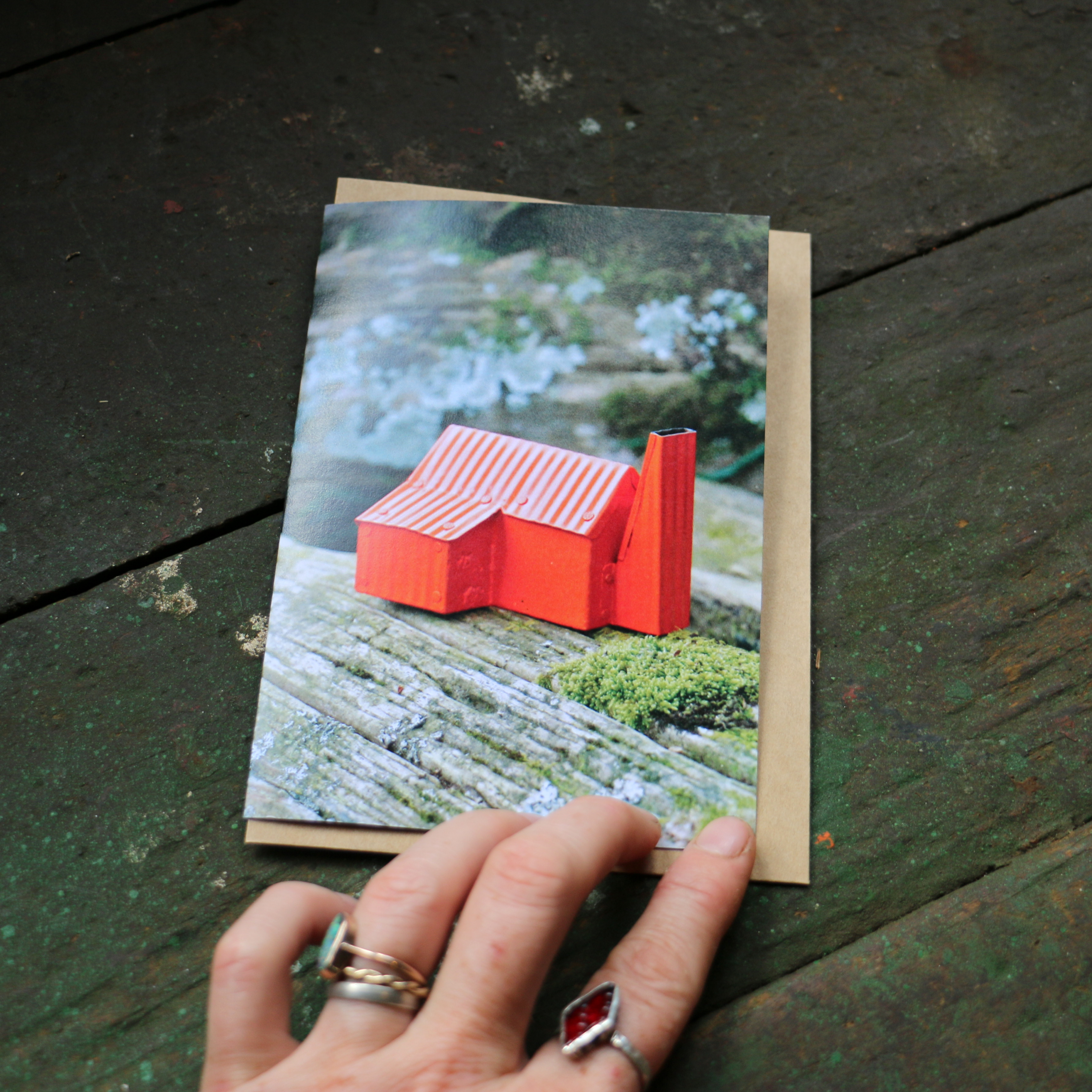 Old Cedar Flat Hut ︎︎︎
Ivory Lake Hut ︎︎︎
Blue Range Hut ︎︎︎
Cone Hut ︎︎︎
Bealey Spur Hut ︎︎︎
Greeting Cards
We know you love our Mini Huts and we love making them! However we often feel like we can't make them fast enough.
To tide everyone over until new Mini Huts are available we have chosen our favourite huts and printed them onto some greeting cards.
Each card has a full colour image on the front, hut name and map on the back and is blank inside for your message, whatever the occasion. Includes high quality NZ made envelope.
Hut Mix Pack

Seven different hut cards plus bonus "Backcountry dreaming" card . If you would like a custom selection of huts just let us know in the 'notes' section when you place your order.
Solo Hut Pack

Five cards of one hut (choose from 7 options) plus bonus "Fox River" card
Free shipping on all Aotearoa orders. Orders will be shipped weekly on Tuesdays (starting April 25th)
Purchase in person
from one of our retailers
-
RRP $6 each
Wild Cards ︎︎︎
Left:
Backcountry Dreaming
; Right and below:
Fox River