Collectable tramping huts


Made with the spirit and integrity of the backcountry; from salvaged materials to handcrafted construction.




Hut of
the Month


Each month we'll handcraft a batch of one specific hut, showcasing the process and delving into the history of the real hut.






May 2023

Brewster Hut image credits:
Brewster Hut

Haast Pass, Mount Aspiring National park

Brewster started its life as an A frame biv in '76, used as shelter in the search for Kokako. After the second edition became run down DOC replaced it with a hut, the design and colour inpsired by French Ridge hut.
We were commissioned to make this hut as a special celebration gift earlier this year. We love how this mountain design turned out in miniature and have decided to create a special edition of four.
We are offering up two of these hand crafted Brewster Bigatures directly to you as pre-orders.
Get acquainted with the hut by watching
the crafting process here.
14cm x 22cm x 10cm
Reclaimed timber, salvaged steel, 6 x mirror windows, welded steel chimneys, aluminium door step, custom made door handle.
The base has a slide hatch to access an interior cavity and is stamped with hut and artist name and year. Includes a unique hut map card.
Limited edition of 4.
Only 1 remaining - available on pre-order
Allow 6-8 weeks for delivery.

Shipping is free and your hut will come in a custom made cardboard box.
Past Months huts:
Jan
|
Mar
April 2023

Goat Creek Hut ︎︎︎
Cecil Kings Hut ︎︎︎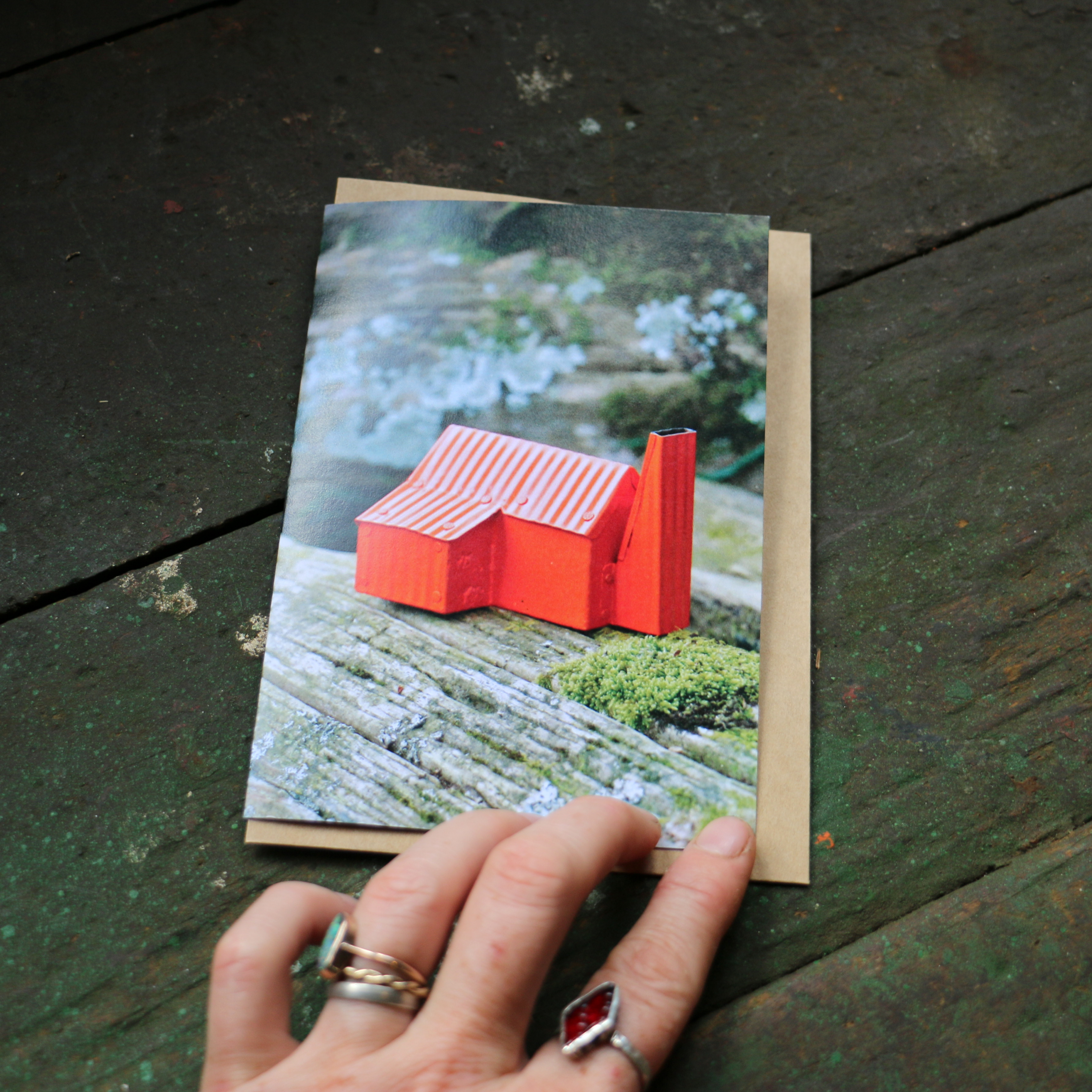 Old Cedar Flat Hut ︎︎︎
Ivory Lake Hut ︎︎︎
Blue Range Hut ︎︎︎
Cone Hut ︎︎︎
Bealey Spur Hut ︎︎︎
Greeting Cards
We know you love our Mini Huts and we love making them! However we often feel like we can't make them fast enough.
To tide everyone over until new Mini Huts are available we have chosen our favourite huts and printed them onto some greeting cards.
Each card has a full colour image on the front, hut name and map on the back and is blank inside for your message, whatever the occasion. Includes high quality NZ made envelope.
Hut Mix Pack

Seven different hut cards plus bonus "Backcountry dreaming" card
Solo Hut Pack

Five cards of one hut (choose from 7 options) plus bonus "Fox River" card
Free shipping on all Aotearoa orders. Orders will be shipped weekly on Tuesdays (starting April 25th)
Purchase in person
from one of our retailers
-
RRP $6 each
Wild Cards ︎︎︎
Left:
Backcountry Dreaming
; Right and below:
Fox River
Free Shipping Nationwide


Aotearoa NZ

Shipping to US, UK & AUS between $15 - $25


︎



Missed out?


and be notified about the next batch




or you can try our